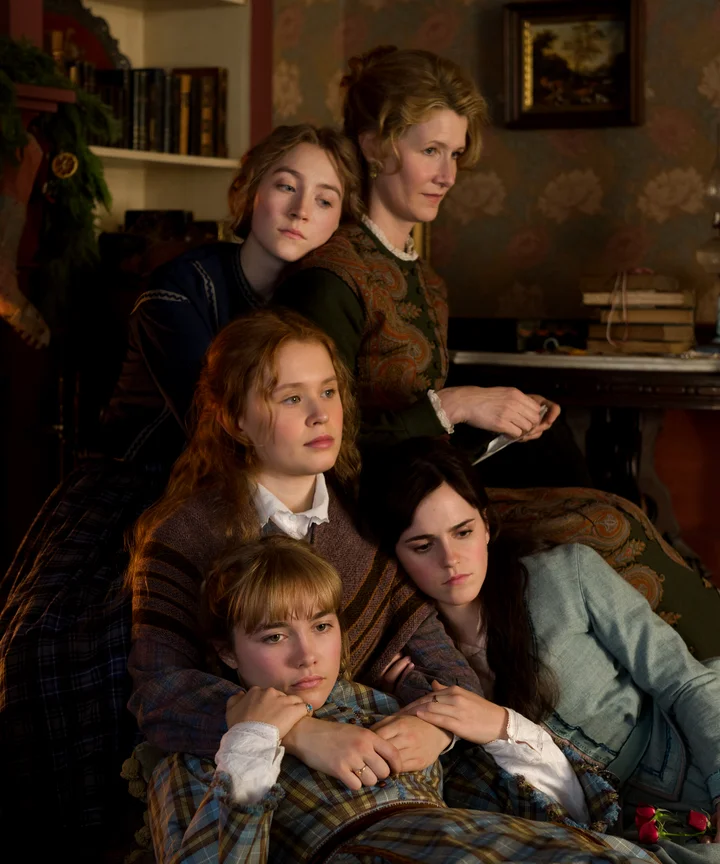 Published in 1868, Louisa May Alcott's Little Women was one of my favourite books when I was a little girl. When I discovered it was being adapted to screen (again) – and starring a whole bunch of my favourite actors, no less – there was no way I was gonna miss seeing it on the big screen. Full disclosure; I never saw the 1994 version (or indeed, any of the many other on-screen adaptations that have been made since 1917), and after watching this new version, don't think I need to, because the 2019 adaptation was so. Flipping. Good.
This most recent adaptation was directed by Greta Gerwig, and reunites her with Saoirse Ronan and Timothée Chalamet, both of who starred in her 2017 film Lady Bird – and who incidentally will be on screen together again, in the upcoming film The French Dispatch. I really loved Lady Bird, and so I was eager to see Gerwig's take on this classic story. I wasn't disappointed, and her feminine voice and vision really brought these beloved characters to life.
Saoirse Ronan stars as Jo March, our feisty, independent protagonist (and one of my personal literary heroes). Jo was always my favourite character, and that is largely because she is so much like me. Hot tempered, wilful, stubborn and intelligent, she is a writer with no aspirations to marry, or fit in with elegant society. I loved her dearly as a child, and Ronan's portrayal of her is everything I could have imagined. Timothée Chalamet plays the role of the charming next door neighbour, Theodore "Laurie" Laurence, and even I fell in love with him a little. The on screen chemistry between these two young actors is always a treat, and probably has a lot to do with the fact that they are off screen friends as well. I love seeing them together, and the fast friendship of their characters is one of the things I enjoyed most about this film.
They are supported by an equally stellar cast, including Emma Watson, Meryl Streep, Laura Dern, Florence Pugh and Eliza Scanlen. One of the things I loved so much about this story, both in literature and on screen, is how multidimensional the central characters are. The plot concerns four sisters, each with their own individual interests and talents, and their unique voices. It was a true joy seeing those literary characters made flesh on screen. Emma Watson embodies Meg's maternal instinct and quiet longing for elegance. Florence Pugh brings to life the Amy's occasional petulance, but also her dedication to working towards her ultimate goals. Eliza Scanlen plays the gentle and shy Beth, and she was played so sweetly that I wanted to jump through the screen and embrace her. It was beautifully acted on all accounts, and I really felt that the casting choices could not have been better.
As fabulous as they were, it wasn't simply just the actors that made this film to spectacular for me. Speaking from a dressmaker's point of view, I have to say that the costume department needs to be commended. It was a great thrill for me, seeing so many gorgeously made costumes, each tailored (pun intended) for each character. The darker hues and more practical clothing for Jo's tomboyish attitudes, contrasted against the lighter and more arguably feminine gowns Amy wears in Paris. I swoon.
I loved this film. Unabashedly. At it's heart, Little Women is a story of sisterhood, of overcoming individual hardship, of carving out a place in a society determined to pigeonhole women. It is the kind of story that I think every woman can find something in; a character to relate to, or perhaps a situation to sympathise with. With all of this in mind, it is my personal feeling that Greta Gerwig's take on this classic story is absolutely worth watching. It is heartfelt, honest, emotional, and beautifully directed. I truly felt invested in the story, and the characters. It is one of the rare films that I would return to the cinema to see again, and similarly, one of the few times where the film measures up to the book. Perhaps I feel so strongly about it, because I am familiar with the source material, but from a purely cinematic standpoint, it was just a really lovely film. Go and watch it.